Reference Standards for Tumor Profiling Analysis

LGC SeraCare is the industry leader in NGS-based Reference Standards
LGC SeraCare's portfolio of Seraseq® oncology reference products are industry standards for use in a broad range of NGS-based tumor profiling and immuno-oncology (I-O) assay workflows (see, e.g., Figure-1), used in disease diagnosis and I-O treatment outcome decisions. We offer RNA and DNA-based reference standards, in all formats (purified gDNA, RNA and FFPE) for use as positive sample controls in all phases of NGS assay needs – development, validation and clinical applications.


Figure-1: A sample-to-report workflow for targeted NGS assays and applications of Seraseq controls for ensuring assay quality and accuracy of test results.
DNA Standards
Developing and optimizing somatic mutation assays is a difficult task, with variations in the amount of tumor cellularity and potential sources of variability across the NGS workflow. Successful assays require accuracy throughout the entire process, from sample DNA purification and quantitation, to library construction and template preparation, through bioinformatics parameters and variant annotation.
Seraseq's DNA products offer mutation analysis of 40 clinically-relevant variants (SNVs, INDEL, SVs) blended at AF7% and AF10% in a single reference sample (see Figure-2). We also offer DNA reference standards for analyzing CNV amplifications of clinical relevance in some cancer diseases.
List of DNA genes
| | | | | | | |
| --- | --- | --- | --- | --- | --- | --- |
| AKT1 | CTNNB1 | FLT3 | GNAS | KRAS | NRAS/CSDE1 | RET |
| APC | EGFR | FOXL2 | IDH1 | MPL | PDGFRA | SMAD4 |
| ATM | ERBB2 | GNA11 | JAK2 | NCOA4-RET | PIK3CA | TP53 |
| BRAF | FGFR3 | GNAQ | KIT | NPM1 | PTEN | TPR-ALK |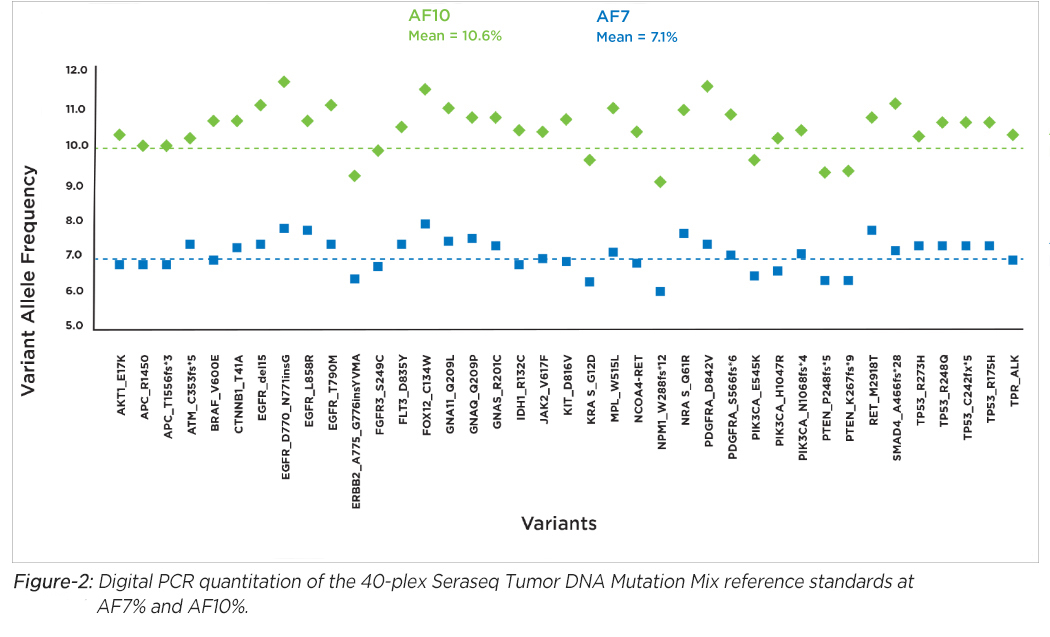 Contact us to learn more about our DNA Products

RNA Standards
LGC SeraCare has developed the most comprehensive panel of highly multiplexed Seraseq Fusion RNA reference materials to match these new highly muliplexed targeted RNA-based NGS assays. These products are offered in both a purified RNA format for ease of use in evaluating library preparation and sequencing, as well as a full-process FFPE reference material to assess performance starting with pre-analytical steps.
List of RNA fusion genes
| | | | | |
| --- | --- | --- | --- | --- |
| CCDC6-RET | FGFR3-BAIAP2L1 | PAX8-PPARG1 | IRF2BP2-NTRK1 | PAN3-NTRK2 |
| CD74-ROS1 | FGFR3-TACC3 | SLC34A2-ROS1 | SQSTM1-NTRK1 | BTBD1-NTRK3 |
| EGFR Variant III | KIF5B-RET | SLC45A3-BRAF | AFAP1-NTRK2 | |
| EGFR-SEPT14 | LMNA-NTRK1 | TFG-NTRK1 | NACC2-NTRK2 | |
| EML4-ALK | MET ex14 Skipping | TMPRSS2-ERG | QKI-NTRK2 | |
| ETV6-NTRK3 | NCOA4-RET | TPM3-NTRK1* | TRIM24-NTRK2 | |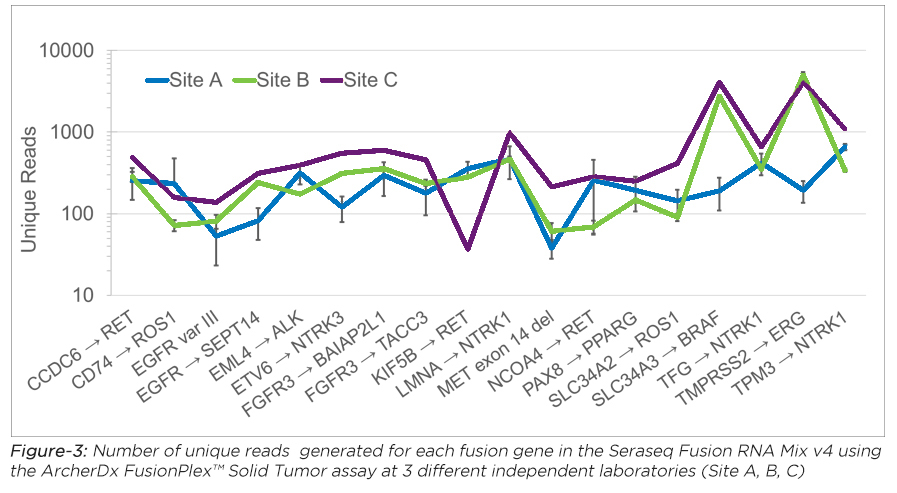 For more on RNA standards read our blog posts on: Multi-Lab FFPE Fusion and Multi-Lab Fusion RNA Mix assessments for NGS assays.
Contact us to learn more about our RNA Products

Immuno-oncology Standards

TMB Products
LGC SeraCare's industry-first TMB reference standards are derived from tumor-normal matched human cell lines, and characterized by whole exome sequencing (WES) and a TMB analysis pipeline to determine their empirical TMB scores (see Table-1). Developed in collaboration with industry experts and analyzed by a range of NGS targeted panels and analysis pipelines (see, e.g., Figure 4), these reference standards provide ground-truth information for accurate determination of cancer patient TMB scores.
Table-1: Seraseq TMB reference standards and WES-derived TMB scores

*Based on Whole Exome Sequencing (WES)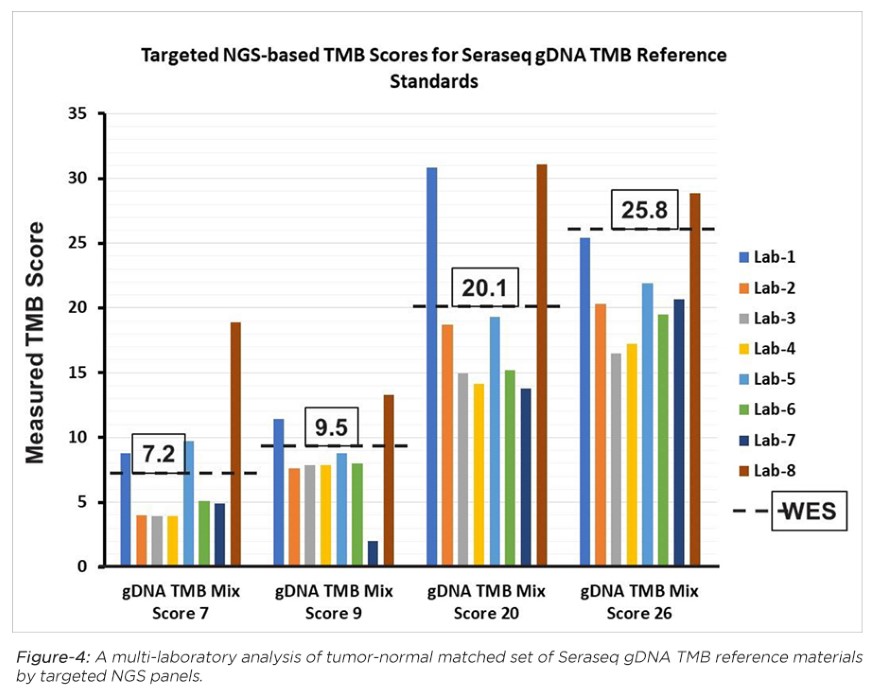 Please contact us to learn more about our early access blood TMB (bTMB) and Micro-Satellite Instability (MSI) reference standards
MSI Products
LGC SeraCare has developed microsatellite instability (MSI) reference materials containing the key mono- and dinucleotide biomarkers typically analyzed in molecular MSI assays – NR-21, NR-24, BAT-25, BAT-26 and MONO-27. These markers are blended at two different allele frequency levels – AF5% and AF20% - to support MSI assay LoD determinations and accurate MSI detection. These products are offered as tumor-normal matched pairs, with variants precisely quantitated by digital PCR as well as qPCR/CE against a highly characterized genomic DNA from a background WT cell line (GM24385) determined as microsatellite stable (MSS).

To support our commitment and value we have selected assets we hope you find valuable. CLICK HERE to download some of the scientific content for our Seraseq® tumor profiling and immuno-oncology reference standards. After completing the form, you will receive an email with a link to all downloads.