Remove doubt. Add confidence.
Standardize best-in-class assay performance across settings and sites.
Prove Quality in All Steps of NGS Workflow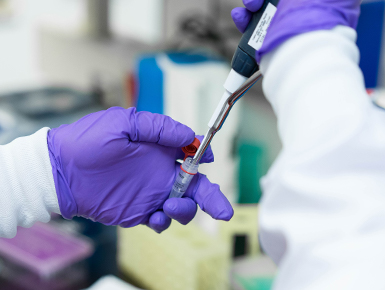 NGS workflows are complex, involving multiple steps, instruments, operators, and bioinformatics analyses. Ensure the ongoing quality of your entire NGS workflow with the most robust clinical genomics QC system.
For full confidence in your assay's ability to consistently detect every variant in your panel, you need a sustainable source of truth-set material. SeraseqTM NGS reference materials are highly multiplexed with a variety of precisely quantitated variants. NGS experts around the world rely on Seraseq for assurance of their diagnostic results.
Tracking and reporting on the volumes of QC data generated by NGS requires a purpose-built solution that integrates with highly multiplexed reference materials. iQ NGSTM QC Management software works with any NGS workflow, no matter how complex.
Learn how Navican leveraged SeraCare's QC solution to get to market sooner and ensure best in class results.

Troubleshoot Variability to Ensure Assay Uptime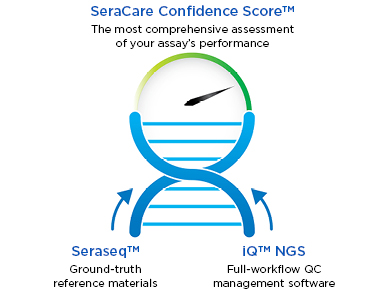 It's critical to catch errors and quickly remedy their root causes before patient results are delayed or affected.
Cut troubleshooting time from hours to minutes by using SeraCare's Confidence Score™. This single, quantitative assessment of your assay's performance uses highly multiplexed reference materials to simplify understanding drift and poor performance across reagent lots, instruments, and operators.
Learn how Dartmouth Hitchcock dramatically reduced troubleshooting times using SeraCare's QC solution.
Comprehensively Assess & Benchmark Run Performance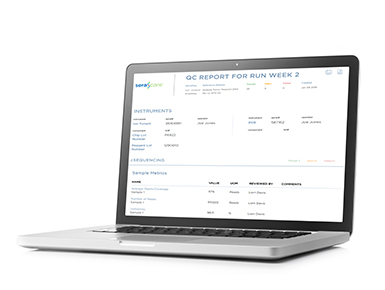 Final variant calls are impacted in different ways by each of the many dimensions of quality that cumulatively make up NGS run performance.
Incorporating reference materials with the proper mix of variants and variant types, along with associated quantitative metrics, is the key to truly comprehensive run performance assessments.
Seraseq biosynthetic NGS reference materials are built with critical variants and variant types recommended by leading clinical genomics experts. Their precisely modulated allele frequencies allow for more accurate measures of assay performance, and effortless integration with iQ NGS QC Management makes it easy to analyze and evaluate runs, no matter how much data.
SeraCare's Confidence Score™ then makes it easy for you to benchmark your performance with peer groups and other sites, giving you insight into how your assay's performance stacks up in real time and how new reagent lots affect performance.
Optimize Operations & Demonstrate Compliance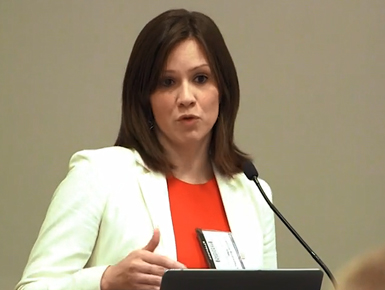 Accurately tracking and reviewing your assay's QC data in a timely manner is essential to the quality management system of your clinical laboratory. This data is used during inspections by associations like the College of American Pathologists (CAP) to ensure the proficiency of clinical laboratories, as well as optimizing and safeguarding operations internally.
With iQ NGS QC Management software, preparing for inspections takes just a few clicks to sign off on QC metrics and generate a fully compiled and ready to submit report.
iQ NGS also has an array of pre-built reports for demonstrating the equivalency of instruments and operators at set intervals throughout the year to ensure quality and operational efficiency over time. Save precious time and money by catching drift before it can affect patient results.
Learn how Dartmouth Hitchcock automated their QC.
Learn more about the components of our QC Solution
With SeraCare's complete QC solution of Seraseq biosynthetic NGS reference materials and iQ NGS QC Management software, you'll spend less time wrangling with QC data and hunting down suitable remnant specimens, and more time running your lab. Trust SeraCare's 30-plus years of experience supporting clinical laboratories around the world with comprehensive solutions to their greatest QC challenges.

"You can't underestimate all of the complexities and subtleties involved in [NGS] testing. There are a lot of factors that can impact test performance, so you really need a very robust QC program to make sure you're meeting that benchmark."
- Navican, Using Robust Quality Control to Improve Cancer Care