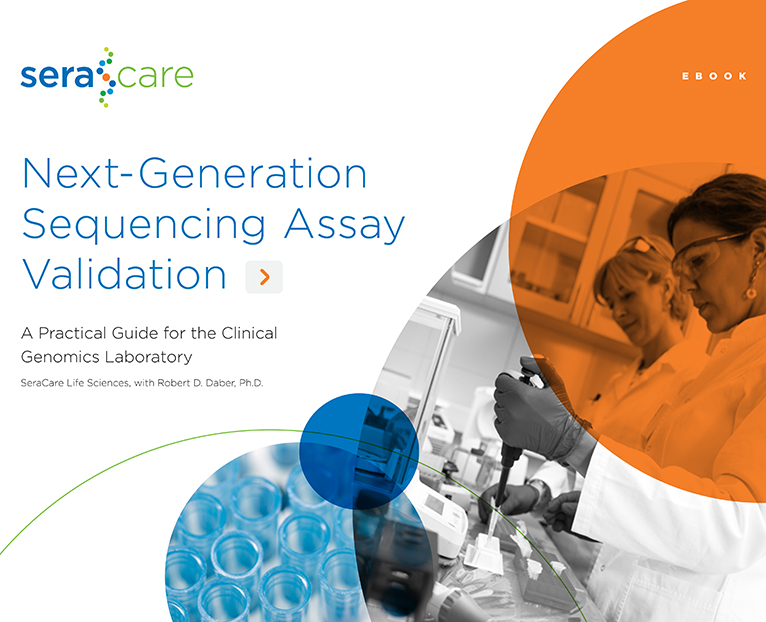 LOOKING FOR CLARITY ON NGS VALIDATION GUIDANCE?
Next-Generation Sequencing Assay Validation: A Practical Guide for the Clinical Genomics Laboratory
This practical guide walks through key considerations and guidelines to help you accelerate NGS assay validation for less money and greater confidence in results. Learn about:
Specific ways you can save time and money while thoroughly validating an NGS-based clinical genomics assay
Validation best practices from leading clinical genomics laboratories
How to navigate the many guidelines and requirements of the various authoritative bodies for clinical genomics testing
SeraCare have been fantastic in helping us develop the plasma-based EQA schemes. Technically, that's very challenging to deliver as an EQA provider; it's not an easy sample type to be able to just get on-tap from any patient or biobank.

- Dr. Sandi Deans, Director, UK NEQAS for Molecular Genetics and Molecular Pathology

We're basically getting more bang for our buck from [Seraseq] reference materials because they have more mutations represented within them.

- Dr. Brian Haynes, Associate Director of Bioinformatics, Asuragen
Our Latest Blogs
As originally seen in The Journal of Precision Medicine March 2019.
One of the core aims of precision medicine is to provide a more tailored approach to disease diagnosis, therapy selection, and patient monitoring to improve the overall quality of life for patients with disease. Indeed, this aim has been at the heart of the high interest and study of the potential of liquid biopsies to improve patient care in earlier detection of cancer, treatment, and surveillance.
On the last morning of AACR 2019, I had the privilege of presenting a poster together with my colleague, Sebastian Bender from Bayer AG, in Berlin. Because of this, I didn't have a chance to attend any talks, but I still wanted to finish out my blog series with highlights from each day of the conference.