Validation Protocol for the Ion Torrent Oncomine Myeloid Research Assay Using
Seraseq Myeloid DNA and RNA Reference Materials
Before a diagnostic assay can generate results that will be used to guide patient care, a clinical laboratory must rigorously prove, or validate, that all components of the assay workflow are able to function together to meet requirements for the intended use.
NGS Validation Protocol Incorporating Referencing Materials
SeraCare, in partnership with Thermo Fisher Scientific, has developed a protocol that ensures a thorough and accurate assessment of your Ion Torrent™ Oncomine™ Myeloid Research Assay prior to routine deployment using the Seraseq™ Myeloid Reference Materials (RNA and DNA).
Fill out the form to download the protocol.
Steps:
Download validation protocol (fill out the form).
Follow your assay protocol for library preparation, sequencing, and data analysis.
Assess variant detection (Tables 3 & 4 in validation protocol) using your bioinformatics pipeline.
NOTE: In addition to validation, Seraseq myeloid reference materials can be used for daily or periodic run QC (see below).
Seraseq Myeloid Reference Materials
The Seraseq myeloid reference materials are highly multiplexed positive sample controls for assessment of clinically-relevant SNVs, INDELs and gene fusions in myeloid cancers, and have been validated using highly precise digital PCR assays.
These reference materials have also been orthogonally validated, including the Ion Torrent Oncomine Myeloid Research Assay.
The Seraseq Myeloid Mutation DNA Mix reference materials (0710-0408) are single-vial samples with 23 variants (across 16 genes) blended at 5%, 10% or 15% allelic frequencies (see Figure 1). The Seraseq Myeloid Fusion RNA Mix reference materials (0710-0407) are single-vial samples consisting of nine gene fusions (see Figure 2).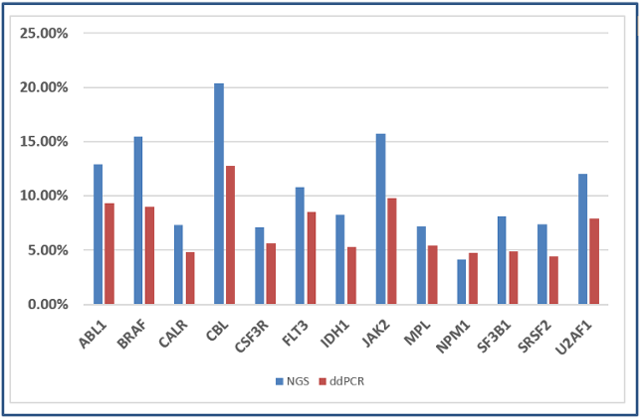 Figure 1: Seraseq Myeloid DNA Mutation Mix variant allele frequency validated by the Oncomine Myeloid Research Assay.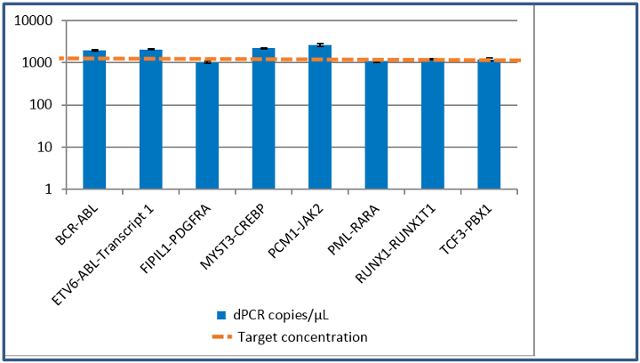 Figure 2: Seraseq Myeloid Fusion RNA Mix gene fusion copies/µL as determined by digital PCR.
Complete this form for your free download:
We're committed to your privacy. SeraCare will not share or sell your data. View our privacy policy below for details.