How SeraCare's Reference Material Ensures Diagnostic Results You Can Count On
A white paper from SeraCare
Learn how highly-multiplexed NGS reference materials can help you speed development, validate more robustly, and implement better clinical genomics assays.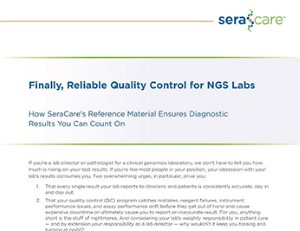 If you work in a clinical genomics lab, you're always looking for ways to expedite development, improve robustness, and better characterize your assays.
As you look to develop assays and bring them online as quickly and cost-effectively as possible, you can be thinking ahead to designing a robust validation protocol, and building a QC approach that avoids assay drift.
NGS assay implementation can be extremely costly, even more so if you don't follow best practices.
Without including these few tips, NGS assay implementation can consume precious time and human resources. It adds to your lab's workload and decreases the output of tests you get paid for.
Luckily, there are a few ways to streamline your lab's processes to get your assay in production faster and keeping your metrics on track.
So what can you do, today?
While we don't know precisely what the future regulatory guidelines will be, we already know what we should be doing: running high-quality controls, robust quality management, achieving (and validating) confidence in our testing, and monitoring QC metrics.
If you are doing those things, chances are that whatever the FDA comes up with, you'll already be safely in compliance.
Do you want to futureproof your NGS assay implementation process?
CAP describes the approach you should take to ensure accuracy in your assay.
They say that you're aiming for "agreement between test result and 'true' result." In other words, you must run known negative and known positive controls through your test.
Highly-multiplexed NGS reference materials make this easier. With highly-multiplexed NGS reference materials, you can produce more data, faster. For example, you might be able to generate the same amount of data in 10 runs that would take you 100 runs with remnant patient samples.
This white paper from SeraCare gets into the details.
In it, you'll learn:
About the common quality control (QC) issues that clinical genomics labs face.
About a study published in the Journal of Molecular Diagnostics, completed by Birgit Funke, Director of Clinical Research and Development at Harvard Partners Healthcare.
About the pros and cons of the three most common approaches to lab QC.
About SeraCare's highly-multiplexed, patient-like, ground-truth NGS reference materials.
Fill out the form to download this white paper.
Complete this form for your free download:
We're committed to your privacy. SeraCare will not share or sell your data. View our privacy policy below for details.