Achieving High Levels of Accuracy from Next-Generation Sequencing Assays
in Clinical Laboratories
Insight from the 2017 Precision Medicine World Conference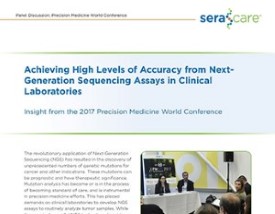 This white paper details the panel discussion at the 2017 Precision Medicine World Conference (PMWC), "Achieving Accurate NGS Test Results." Greg Tsongalis, Director of Clinical Genomics and Advanced Technology at Dartmouth Hitchcock Medical Center; Dara Aisner, University of Colorado; and Russell Garlick, CSO of SeraCare discuss the important factors for achieving high levels of accuracy with NGS, giving us key insights and an in-depth look at specifics that contribute to variability.
Download this white paper to learn:
How the use of reference materials is critical for validation during clinical NGS test development
The benefits of inter-lab and cross-platform validation
How to optimize NGS assays for clinical diagnostics
Fill out the form to download this white paper.
Complete this form for your free download:
We're committed to your privacy. SeraCare will not share or sell your data. View our privacy policy below for details.