Trends in Clinical NGS Management: Results from a Practitioner Survey
A Genomeweb/SeraCare Survey Report
Today's challenging clinical next-generation sequencing applications require a rigorous, comprehensive quality control management program to ensure confidence in results.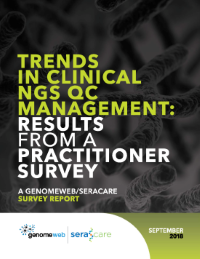 In this roundtable discussion, three industry experts will share practical learnings on implementing a best-in-class clinical NGS lab QC management program on time and budget.
Learn how QC has been implemented by your peers as the panel expands on the results of the most comprehensive survey to date on NGS QC practices.
MODERATOR:
Gregory J. Tsongalis, PhD, HCLD, CC, Professor of Pathology, Director, Laboratory for Clinical Genomics and Advanced Technology (CGAT), Department of Pathology and Laboratory Medicine, Dartmouth Hitchcock Medical Center and the Audrey and Theodor Geisel School of Medicine at Dartmouth
Dr. Tsongalis is Professor of Pathology and Director of Clinical Genomics and Advanced Technology at the Dartmouth-Hitchcock Medical Center and the Geisel School of Medicine at Dartmouth in Lebanon NH. He is a leading investigator in molecular oncology and clinical genomics. He is past president of Association of Molecular Pathology and a noted authority on molecular diagnostics. Dr. Tsongalis' research interests include developing novel technologies and approaches for biomarker discovery and molecular pathology using Nextgen Sequencing and other advanced technologies. His clinical lab provides DNA and RNA testing for oncology, infectious diseases, pharmacogenomics and genetic diseases.
PANEL MEMBERS:
Seema Rego, PhD, Associate Director, Global Clinical Operations, Illumina
Dr. Seema Rego is the Associate Director of Global Clinical Operations at Illumina. Seema received her PhD in Molecular Biology from the University of North Texas. Prior to joining Illumina in 2012, Dr. Rego held various senior roles at Cepheid and Roka Biosciences. At Illumina, Dr. Rego focuses on global clinical operations, working in close collaboration with internal and field clinical operations teams.
Keith Gligorich, PhD, Lab Operations Director, Navican
Keith Gligorich is the Laboratory Operations Director at Navican Precision Cancer Care, an Intermountain Healthcare Company. Navican provides TheraMap, an end-to-end solution helping oncologists and patients harness the power of precision genomics, clinical analytics, and patient services for optimal cancer management. Prior to joining Navican, Dr. Gligorich was a Research Assistant Professor in the Department of Pathology at the University of Utah and a Lead Scientist at ARUP Laboratories. In this role, he led a team of scientists focused on developing solid tumor molecular and NGS diagnostic tests. Dr. Gligorich earned a PhD in Chemistry from the University of Utah. He continued his training as a Department of Defense Breast Cancer Research Program Post-Doctoral Fellow at the Huntsman Cancer Institute.
Gayatry Mohapatra, PhD, Lab Director, University of Illinois Chicago
Gayatry Mohapatra joined the department of Pathology at UIC in 2015 as the Director of Genomic Medicine. Prior to this, she served as a faculty in the Molecular Pathology Division at Massachusetts General Hospital and the Harvard Medical School. At MGH, Gayatry established DNA based microarray technology among others for clinical/translational research. She earned her PhD in Genetics from Utkal University in Bhubaneswar, India and continued her postdoctoral research at Stanford University and UCSF in Human Genetics and Cancer Genetics respectively. She has published multiple articles in peer-reviewed journals.
Fill out the form to download the survey results.
Complete this form for your free download: