2 Tools for Overcoming Your Clinical Lab's Toughest Quality Control Challenges
How to Ensure Your NGS Tests Are Safe and Effective
When 454 Life Sciences introduced the first next-generation DNA sequencer in 2005 — the now-venerable GS20 — it sparked a revolution in clinical diagnostics. As the long-held gold standard, Sanger sequencing, fell away, the primary challenge for clinical laboratories shifted from data acquisition to ensuring their NGS tests were safe and effective for guiding medical management decisions.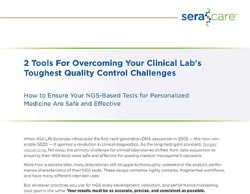 More than a decade later, many laboratories still struggle to thoroughly understand the analytic performance characteristics of their NGS tests. These assays comprise highly complex, fragmented workflows, and have many different intended uses.
But whatever practices you use for NGS assay development, validation, and performance monitoring, your goal is the same: Your results must be as accurate, precise, and consistent as possible.
That goal is within reach. And in this paper, we'll show you how. By reading this white paper, you will learn:
Why quality control is so challenging for NGS labs
How to use QC metrics to monitor the health of your NGS assays
How reference materials may be the key to quality control
The 9 key characteristics of sufficient NGS reference materials
7 QC data management must-haves
Fill out the form to download this white paper.
NGS White Paper Download:
We're committed to your privacy. SeraCare will not share or sell your data. View our privacy policy below for details.