Catalyzing Implementation of NGS-Based Tests:
A Four-Part Series Including Clinical Genomics Best Practices & Case Studies
Free Report with Expert Case Studies
Clinical Genomics Experts Discuss Overcoming QC and Validation Challenges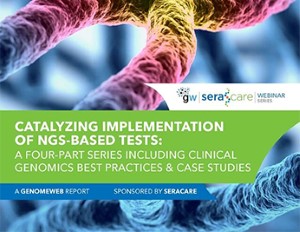 This report is based on a series of presentations by key opinion leaders and focuses on the validation and implementation of clinical next-generation sequencing assays. First, a round table of expert panelists provide an overview of their validation processes for laboratory-developed clinical genomics tests and specific validation guidelines. They identify specific recommendations, and discuss what labs can do today to prepare for the inevitability of future guidance.
Also included are a series of three clinical genomics case studies focused on the following topics:
Download now to learn more:
Improved performance and global standardization in the implementation of assays
BReal-world examples of how some lab directors are bringing validated tests to the clinic
How clinical genomics labs can and should ensure the analytical and clinical validity of their tests
Fill out the form to download this report.
Complete this form for your free download:
We're committed to your privacy. SeraCare will not share or sell your data. View our privacy policy below for details.