AccuPlex™ Technology for Rapid Development of Molecular Diagnostic Assays
in Response to Viral Infectious Diseases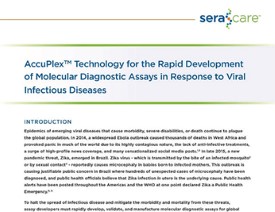 IVD developers and manufacturers agree that the most effective reference materials for infectious disease assays are full-process, non-infectious, and available in large quantities within a short time frame.
This white paper details how AccuPlex recombinant virus technology enables replication-defective virus particles that are commutable in any sample matrix and closely mimic pathogenic virus found in clinical samples.
Download this whitepaper to learn:
Why AccuPlex reference materials can serve as full‑process controls, positive controls, and internal controls
How AccuPlex reference materials were deployed to fight the 2014 Ebola crisis and today's Zika outbreak
What enables AccuPlex recombinant virus to accommodate large target sequence for highly multiplexed assays while remaining safe to handle
Fill out the form to download this white paper.
Complete this form for your free download:
We're committed to your privacy. SeraCare will not share or sell your data. View our privacy policy below for details.