NGS Assay Development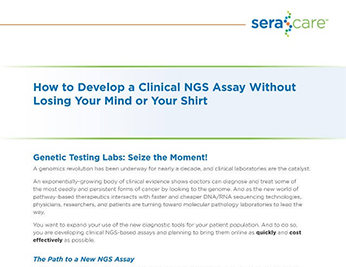 This guide contains best practices to help you develop an NGS-based clinical genomics assay and bring it online quickly and cost-effectively. It discusses specific ways to overcome the top three assay development challenges faced by clinical laboratories.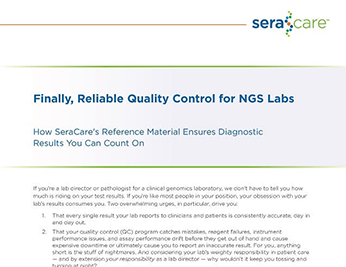 NGS assay implementation can be extremely costly, even more so if you don't follow best practices. Learn how highly multiplexed NGS reference materials can help you speed development, validate more robustly, and implement better clinical genomics assays.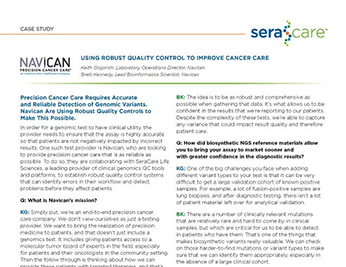 This case study details how Navican used SeraCare's complete QC solution to build a best-in-class quality control protocol. They discuss the implementation of both Seraseq clinical genomics reference materials, and iQ NGS QC Management software.
NGS Assay Validation and QC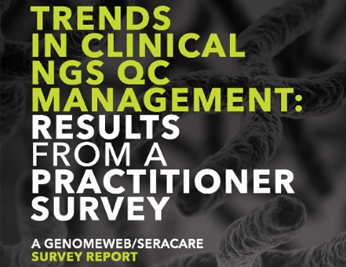 By focusing on the impact of QC stops on reporting results, lab productivity, and reimbursement; and the use of tools such as reference materials and data management solutions, our goal with this survey was to gain greater insight into the QC habits and best practices of the clinical NGS community worldwide.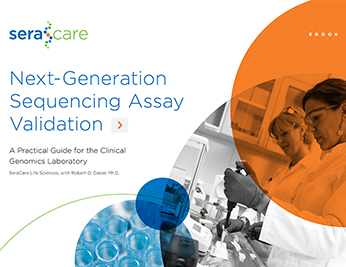 A practical guide focuses on the validation process for NGS-based assays and will walk through key considerations and guidelines you can follow to ensure a smooth and successful validation.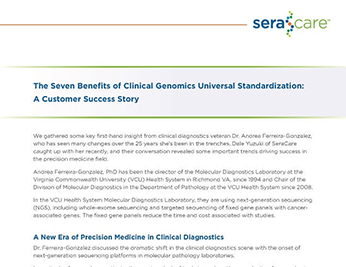 Clinical diagnostics veteran Dr. Andrea Ferreira-Gonzalez discusses the results of an interlaboratory evaluation of standardized reference materials for tumor profiling.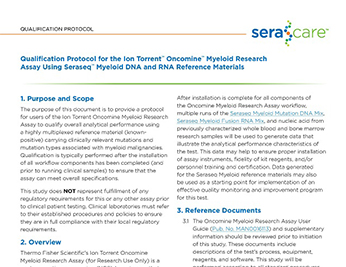 A protocol, developed in partnership with Thermo Fisher Scientific, that ensures a thorough and accurate assessment of your Ion Torrent Oncomine Myeloid Research Assay prior to routine deployment using the Seraseq Myeloid Reference Materials (RNA and DNA).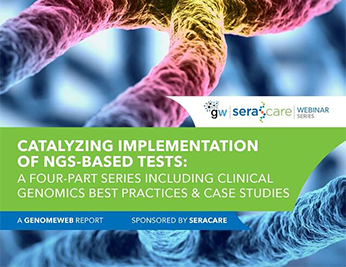 This report by clinical genomics experts focuses on the validation and implementation of clinical NGS assays. Find case studies as well as an overview of validation processes for laboratory-developed clinical genomics tests and specific validation guidelines.
Whatever practices you use for NGS assay development, validation, and performance monitoring, your goal is the same: Your results must be as accurate, precise, and consistent as possible.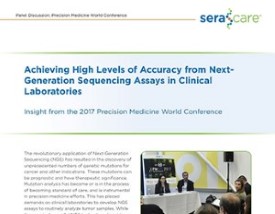 This white paper details the panel at the 2017 Precision Medicine World Conference (PMWC), "Achieving Accurate NGS Test Results." Panelists discuss achieving high levels of accuracy with NGS, giving key insights and an in-depth look at specifics that contribute to variability.
Infectious Disease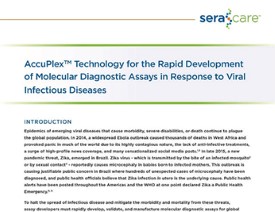 This white paper details how AccuPlexTM recombinant virus technology enables replication-defective virus particles that are commutable in any sample matrix and closely mimic pathogenic virus found in clinical samples.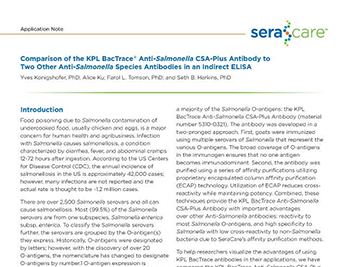 Learn why KPL BacTrace antibodies outperform both polyclonal and monoclonal antibodies in an indirect ELISA, and how we achieve the broad reactivity of a polyclonal antibody combined with the specificity of a monoclonal antibody.