Development of SNP Matched NIPT Reference Materials for Validation, Proficiency Testing and Quality Control
Plasma-based non-invasive prenatal testing (NIPT) by Next Generation Sequencing (NGS) is being adopted into clinical laboratories.
However, ob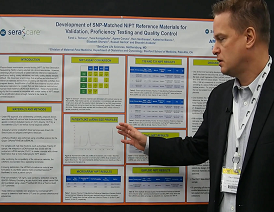 taining sufficient amounts of patient-derived reference materials for proficiency testing, assay validations, and daily QC remains difficult if not impossible to obtain. Using consistent, high quality and patient-derived reference materials can help with all of these tasks.
SeraCare has developed new NIPT materials derived from circulating cell-free DNA (ccfDNA) from pregnant donors. Amplification of ccfDNA from maternal sources allows reference materials to be created that are fetal-maternal matched and maintain fetal-maternal ccfDNA size distribution.
Watch this video to see how SeraCare has developed a technology to generate maternal-fetal matched NIPT reference materials that can be used for validations, proficiency testing, and as daily run controls.
To access it, simply fill out the form to the right.
Complete this form for your free download: