On Demand Webinar and Slide Deck
Catalyzing Implementation of NGS-Based Tests
Roundtable Discussion: Best Practices for Validation, Monitoring, and Controls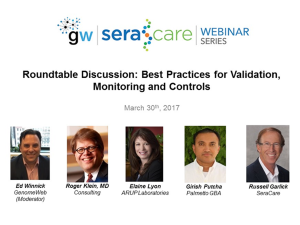 The emergence of NGS-based genomic testing in the clinic has rapidly changed the diagnosis and management of cancer, prenatal cancer, and inherited diseases. Our roundtable of expert panelists provide an overview of the current regulatory landscape for laboratory-developed tests and specific validation guidelines.
View now to learn more about:
Improved performance and global standardization in the implementation of assays
Real-world examples of how some lab directors are bringing validated tests to the clinic
How clinical genomics labs can and should ensure the analytical and clinical validity of their tests
Fill out the form and watch today!
Complete this form for your free download:
We're committed to your privacy. SeraCare will not share or sell your data. View our privacy policy below for details.