Case Study: QC Systems to Comply with CAP, CLIA, and Regulatory Guidelines
Catalyzing Implementation of NGS-Based Tests - Part 3 of 4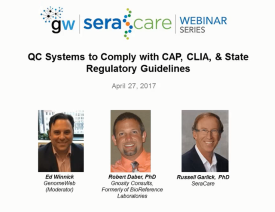 This webinar is the third in a four-part series highlighting real-world examples of how some lab directors are bringing validated next-generation sequencing-based tests to the clinic. In this case study, Robert Daber, formerly of BioReference Laboratory, will discuss how labs can establish laboratory QC systems to comply with CAP, CLIA, and state regulatory guidelines.
View now to learn more about:
Quality systems as they relate to LDT Commercialized Pathways
Validation misconceptions
The importance of indel detection
You can find the other parts of the series below:
Fill out the form and watch today!
Complete this form for your free download:
We're committed to your privacy. SeraCare will not share or sell your data. View our privacy policy below for details.