Case Study: Development and Validation of Clinical ctDNA Cancer Assays
Catalyzing Implementation of NGS-Based Tests - Part 4 of 4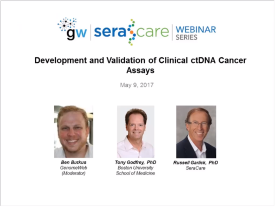 This webinar is the last in a four-part series highlighting real-world examples of how some lab directors are bringing validated next-generation sequencing-based tests to the clinic. In this case study, Tony Godfrey of the Boston University School of Medicine, will discuss how his lab is developing and validating clinical circulating tumor DNA assays.
View now to learn more about:
Background and potential of circulating tumor DNA as a cancer biomarker
Challenges and approaches for ctDNA detection
ctDNA formulation workflows
You can find the other parts of the series below:
Fill out the form and watch today!
Complete this form for your free download:
We're committed to your privacy. SeraCare will not share or sell your data. View our privacy policy below for details.