A Novel Circulating Tumor DNA Reference Material Compared on
Next-Generation Sequencing to Digital PCR Assays
Scientific Video and Poster Presentation
Commutability is critical for a reference material for use in analytical validation of highly sensitive circulating tumor DNA (ctDNA) assays using Next Generation Sequencing (NGS).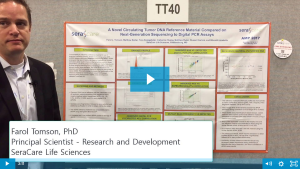 ctDNA analogues that rely on traditional shearing methods via focused sonication alone result in material that amplifies poorly on library preparation. Low library preparation yields are most likely due to a broad range of DNA fragments and damaged DNA ends which prevent proper library formation.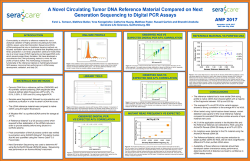 Watch the video and download this free poster to see how SeraCare has developed a size-selection and DNA processing method to mimic the size profile of native ctDNA. This methodology increases the functionality of the reference material on hybrid/capture-based NGS assays, improving their performance in ctDNA assay development, validation, and daily QC.
To access both, simply fill out the form to the right!
Complete this form for your free download:
We're committed to your privacy. SeraCare will not share or sell your data. View our privacy policy below for details.