Video: Validate Your Clinical Genomics Assay Without Crushing Your Budget or Sanity
Advanced clinical genomics tests are increasingly accessible to patients and clinicians around the world, so it's more important than ever to ensure industry standardization for safer, more effective tests.
In this video, Drs. Greg Tsongalis and Russell Garlick review NGS validation approaches to accelerate the development and implementation without blowing your budget.
This practical guide to validating high-performance NGS assays more quickly and for less money will cover: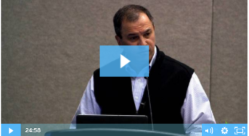 Best practices for robust and thorough validation of somatic cancer panels
The benefits of contrived, biosynthetic NGS reference materials for LDTs
The importance of gene fusion detection by NGS, and strategies for overcoming challenges.
To access the video, simply fill out the form to the right.
NGS Validation Video Download:
We're committed to your privacy. SeraCare will not share or sell your data. View our privacy policy below for details.