Enabling Standardised Testing of Liquid Biopsy Assays
Detecting EGFR Mutations Using Bespoke Reference Materials
Frequently, patients with non-small cell lung cancer (NSCLC) have limited (if any) tissue available to perform EGFR mutation testing. This can be overcome by testing plasma samples for the presence of mutations in circulating tumor DNA (ctDNA).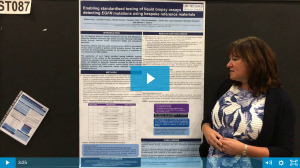 The application of such highly sensitive testing methods requires assessment of the quality of the processes and one mechanism to measure the standard of testing is through external quality assessment (EQA). UK NEQAS for Molecular Genetics provided an EQA for all UK laboratories performing EGFR mutation plasma testing using bespoke reference materials with patient-like sample attributes to assess the standard of service.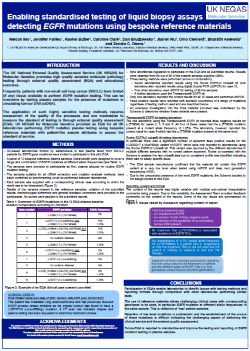 Watch the video and download this free poster to see how participation in external quality assessments enable laboratories to identify issues with testing methods and reporting formats through comparison with other laboratories performing similar tests.
To access both, simply fill out the form to the right!
Complete this form for your free download: