CleanPlex UMI Lung Cancer Panel for Detecting Low-Frequency Variants
Using a Targeted Amplicon Sequencing Approach and Molecular Barcodes
Using molecular barcodes, or unique molecular identifiers (UMI), with next-generation sequencing (NGS) for detecting somatic variants with 0.1% allele frequency has attracted increasing interest in the field of early cancer detection, treatment monitoring, drug resistance screening, and liquid biopsy applications.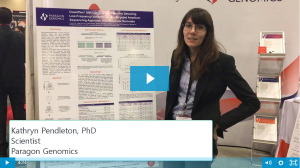 Paragon Genomics presents CleanPlex® UMI, a multiplex PCR-based ultra-sensitive molecular barcoding technology that significantly reduces false positive calls at low allele frequencies. This technology enables sequenced reads to be grouped by barcodes and traced back to the sense or anti-sense strands of the initially barcoded DNA fragment. The described technology utilizes a 3.5 hour, 3-step workflow to make molecular-barcoded NGS libraries.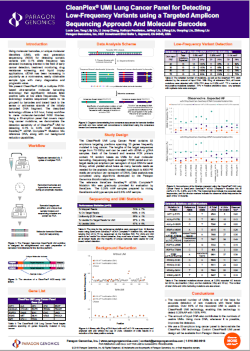 Watch the video and download this free poster to see how the recovered number of UMIs is one of the keys for accurate detection of rare mutations with fewer false positives. Over 60% of the recovered UMI is usable in CleanPlex® UMI technology, enabling this technology to detect 0.25%AF with 100% PPV.
To access both, simply fill out the form to the right!
Complete this form for your free download:
We're committed to your privacy. SeraCare will not share or sell your data. View our privacy policy below for details.