Validation of a Novel One-Step Digital PCR Platform
with Precision Circulating Cell-Free DNA Standards
EGFR (epidermal growth factor receptor) mutation testing is an important drug target for the treatment of non-small cell lung carcinoma (NSCLC).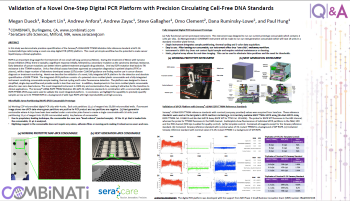 During the treatment of NSCLC with tyrosine kinase inhibitors (TKIs), there is typically a significant response initially, followed by a secondary mutation as the carcinoma develops resistance. Early detection of cancer mutations can better inform patient treatment and guide drug selection. One key EGFR mutation that leads to TKI resistance is the T790M mutation. Only a few clinical assays have been approved as companion diagnostics in patient biopsies (FFPE or plasma), while a larger number of laboratory developed assays (LDTs) under CLIA/CAP guidance are finding routine use in cancer disease diagnosis or treatment monitoring.
The platform was designed to have a simplified, single-step workflow and provide results in less than one hour. This novel yet simple workflow has the potential to make cancer liquid biopsy a clinical application.
Download this free poster to read about the validation of a novel, fully integrated dPCR platform for the detection and absolute quantification of EGFR T790M.
Fill out the form to download our free poster.
Complete this form for your free download:
We're committed to your privacy. SeraCare will not share or sell your data. View our privacy policy below for details.