The Use of Amplified and Synthetic ctDNA to Assess Variant Calls from Targeted NGS Panels
The detection of somatic mutations in circulating cell-free DNA(ccfDNA) from plasma samples using next-generation sequencing (NGS) panels is one of the most exciting developments in oncology diagnostics. However, significant obstacles remain before such assays can effectively transition to routine clinical care.
Such challenges include: 1) the number of mutant molecules in different aliquots of a sample will differ based on underlying Poisson distributions, 2) library preparation methodology (e.g., amplicon vs. hybrid capture) may alter ctDNA representation, 3) sequencing platform-specific errors, 4) assay-specific errors introduced into libraries, and 5) noise suppression may mask low AF mutations.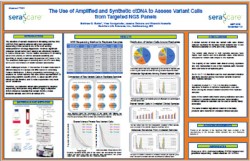 Watch the video and download this poster to see how we evaluated variant calls generated by targeted sequencing NGS panels using different highly multiplexed ctDNA reference materials that contain INDELs, indels, structural variants, and CNVs at various AFs.
To access both, simply fill out the form to the right!
Complete this form for your free download: