Technology to Produce Non-Infectious Recombinant Virus as Reference Materials
for Unculturable or Highly Dangerous Viral Pathogens
Diagnostic laboratories and test developers need to design, manufacture, and validate assays for pathogenic viruses and this requires stable, reproducibly manufactured positive reference materials. SeraCare has developed AccuPlex™ recombinant viral technology using Sindbis virus to meet this need.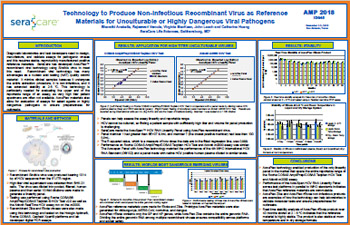 This technology is particularly needed for evaluating the upper end of the reportable range of an assay, as very high titer patient specimens are often not available. AccuPlex materials also allow for evaluation of assays for select agents or highly dangerous pathogens to ensure preparedness for outbreaks.
Download this poster to learn how AccuPlex Zika and AccuPlex rEbola non-infectious products are examples of how the technology can help laboratories to validate molecular tests and ensure preparedness for outbreaks.
Fill out the form to download our free poster.
Complete this form for your free download: