Patient-Like Circulating Tumor DNA Reference Materials
for Evaluation of Next-Generation Sequencing Tests
Clinical oncologists are relying on analysis of circulating tumor DNA (ctDNA) across an increasing number of applications.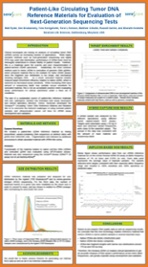 While highly sensitive methods such as NGS and digital PCR may yield vital information, performance of ctDNA tests must be thoroughly understood to ensure fidelity of patient results.
Download this poster to see how our purpose-built ctDNA reference material has greatly improved patient-like properties compared to materials produced by sonication alone, and may be effectively used to evaluate assay performance.
Fill out the form to download our free scientific poster.
Complete this form for your free download:
We're committed to your privacy. SeraCare will not share or sell your data. View our privacy policy below for details.