Optimization Studies for the Development of Highly Multiplexed Reference Materials
in FFPE Format for Solid Tumor Profiling
Scientific Video and Poster Presentation
Sourcing individual FFPE samples (remnant patient specimens or cell line derived) for each of the somatic mutations of interest is expensive and time-consuming.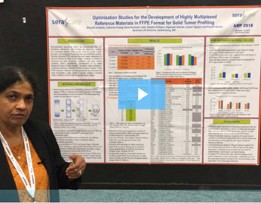 Materials with copy number variations (CNV) quantitatively characterized in a stable background have not been available. Therefore, highly multiplexed, engineered reference materials in FFPE format are needed. These FFPE reference materials must be consistently manufactured and must incorporate a wide variety of somatic variations including CNVs in addition to SNVs, INDELs, and structural variants.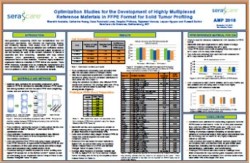 Watch the video and download this free poster to see how curls extracted and tested by different methods all gave similar allele frequencies, indicating that the material can be useful for standardization, optimization, and benchmarking.
To access both, simply fill out the form to the right!
Complete this form for your free download:
We're committed to your privacy. SeraCare will not share or sell your data. View our privacy policy below for details.