Application of the Highly Sensitive SiMSen-Seq Assay and Seraseq®-Designed
Reference Materials to Minimal Residual Disease Detection
The reliable detection of minimal residual disease (MRD) becomes possible as ctDNA assays become more sensitive. Sensitive assays require matched reference materials.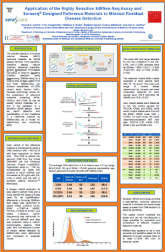 Simple Multiplexed PCR-based barcoding of DNA for Sensitive mutation detection using Sequencing (SiMSen-Seq) is a method that bridges digital PCR and NGS.
Download this poster to see how Seraseq technology allows for the preparation of reference materials containing SNVs, INDELs, and CNVs for use as quality control materials for – and in the validation of – sensitive ctDNA assays.
Fill out the form to download our free scientific poster.
Complete this form for your free download:
We're committed to your privacy. SeraCare will not share or sell your data. View our privacy policy below for details.