Circulating Cell Free DNA Isolated and Amplified from the Plasma
of Pancreatic Cancer Patients as Reference Material for ctDNA Assays
The validation and evaluation of circulating tumor DNA (ctDNA) assays pose analytical challenges because the amount of circulating cell-free DNA (ccfDNA) that can be obtained from a single donor is very limited. A sustainable source of absolute standards is required to develop, optimize, and evaluate ctDNA assays.
Watch the video and download this free poster to learn:
How highly characterized, patient-like reference materials can help to establish concordance between laboratories in clinical trials
Why amplifying ccfDNA enables production of the large quantities of high-quality reference materials needed for multiple analyses while maintaining original genotype profile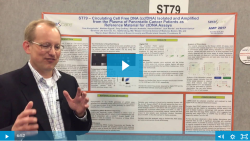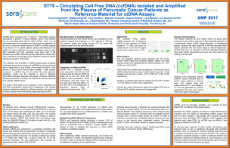 Fill out the form to watch the video and download our free scientific poster.
Complete this form for your free download:
We're committed to your privacy. SeraCare will not share or sell your data. View our privacy policy below for details.