Assessing Sensitivity of NGS RNA Fusion Assays Using a Multiplexed
and Well-Characterized Linearity Panel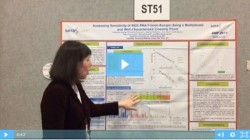 Many targeted NGS-based panels have been introduced to detect RNA fusions useful for prognosis and therapy selection in cancer. Understanding the lower limits of detection (LOD) and the reproducibility across the reportable range of these assays is important for clinical adoption and regulatory compliance.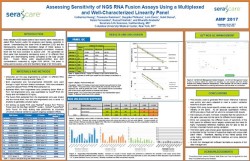 Fill out the form to watch the video and download this free poster to learn how we generated an RNA panel that represents decreasing levels of 16 different RNA fusions and exon-skipping events compared to the total cellular RNA. Fusion RNAs were sequence-verified and their concentrations measured by digital PCR (dPCR).
Fill out the form to download this video and scientific poster.
Complete this form for your free download:
We're committed to your privacy. SeraCare will not share or sell your data. View our privacy policy below for details.