Highly Stable and Commutable NIPT Reference Materials
for Validation, Proficiency Testing and Quality Control
Plasma-based DNA next-generation sequencing (NGS) diagnostics for non-invasive prenatal testing (NIPT) has exploded in popularity in recent years. However, sufficient volumes of patient-derived reference materials for assay validations, proficiency testing, and daily quality checks remain difficult if not impossible to obtain.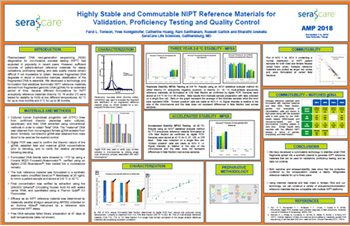 Because fragmented DNA degrades in blood or blood-like matrices, stabilization of the fragmented DNA is essential. SeraCare developed a technology and formulation that stabilizes biomimetic NIPT reference materials derived from fragmented genomic DNA (gDNA) for an extended period of time.
Download this poster to see how SeraCare has developed a commutable technology to stabilize small DNA fragments spiked into a synthetic plasma to generate NIPT reference materials that can be used for validations, proficiency testing, and as daily run controls.
Fill out the form to download our free poster.
Complete this form for your free download: