Prenatal Clinical Samples Enable Development of QC Reference
Materials for Prenatal and Preimplantation Genetic Testing
Advancing prenatal testing requires an adequate supply of reference materials with clinical and genetic diversity. Using patient remnant samples for assay controls is not a viable or scalable option.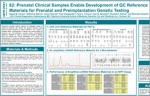 Redevelopment of assays and routine testing for trisomies and microdeletions requires highly characterized reference materials to ensure the quality of testing.
Download this poster to learn more about this clinical description of a cohort study, the development of reference materials suitable for prenatal and preimplantation testing, as well as the characterization and clinical performance of the newly developed reference materials.
Complete this form for your free download: