Workshop Video:
Optimizing TMB Use in Cancer Research and Care:
The Friends of Cancer Research TMB Harmonization Effort
Harmonization of methods to quantify tumor mutational burden (TMB) will facilitate robust biomarker development and optimize clinical utilization and treatment decision-making. Friends aims to better understand the impact of assay variation on clinical outcomes, align standards, and define best practices for TMB assessment.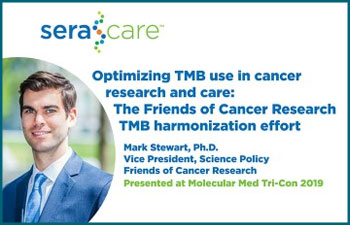 In this workshop, Mark Stewart, PhD, Vice President, Science Policy at Friends of Cancer Research, discusses Friends' efforts to standardize TMB measurements to ensure clinically-meaningful results, and SeraCare's contributions to the project as the sole provider of TMB reference standards to Friends' TMB Harmonization Working Group.
To access the video, simply fill out the form to the right!
Want to learn more about SeraCare's TMB standards? Click here.