Reference Materials for the Analysis of Methylation in Circulating Cell-Free DNA
Methylation is an important epigenetic modification that influences cellular differentiation and gene expression. Recently, liquid biopsies have started to incorporate analyses of epigenetic modifications for screening purposes to detect cancer-derived DNA in the blood.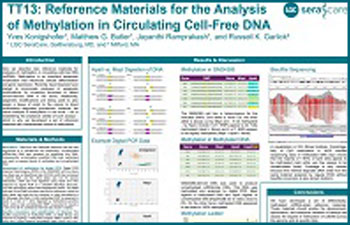 Epigenetic modifications are being used to also assign a tissue of origin to the cancer to direct confirmatory diagnostic procedures. However, the robust analysis of methylation is not trivial – nor is establishing the analytical validity of such assays.
Download this poster from AMP 2021 to learn how and why we developed a set of reference materials with characterized levels of methylation.