Reference Materials for Measurable Residual Disease (MRD) Monitoring
Determining and using the most effective and safest treatment is of great importance in cancer disease management. Recently, a potential biomarker has been identified in immunotherapy: tumor mutational burden (TMB), an assessment of the number of relevant mutations in a tumor.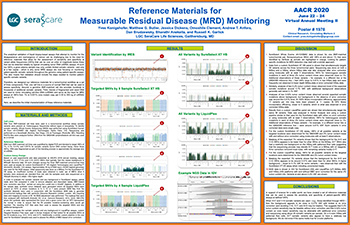 The analytical validation of liquid biopsy-based assays that attempt to monitor for the disappearance and reemergence of cancer can be challenging due to the need for reference materials that allow for the assessment of sensitivity and specificity at variant allele frequencies (VAFs) that can be over an order of magnitude below those that can be detected reliably by typical circulating tumor DNA (ctDNA) assays. Download this free poster to learn about how we characterized our reference materials for MRD Monitoring.