Multiplexed Next-Generation Sequencing Reference Materials for Testing of Inherited Disorders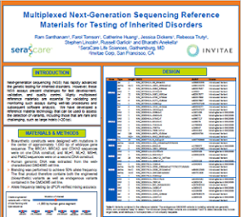 Next-generation sequencing (NGS) has rapidly advanced the genetic testing for inherited disorders.
However, these NGS assays present challenges for test development, validation, and quality control.
Highly multiplexed reference materials are essential for validating and monitoring such assays during wet-lab procedures and subsequent software analysis.
We have developed a reference material technology that can be used to assess the detection of variants, including those that are rare and challenging, such as large indels (>20 bp).