Improving and Standardizing TMB Assay Performance
Determining and using the most effective and safest treatment is of great importance in cancer disease management. Recently, a potential biomarker has been identified in immunotherapy: tumor mutational burden (TMB), an assessment of the number of relevant mutations in a tumor.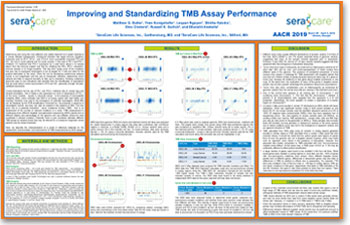 TMB measurement is challenging since different targeted next-generation sequencing (NGS) panels look at different regions and percentages of the genome and use different criteria for what constitutes a relevant mutation. As research continues to be done, there is poor correlation between different TMB assays at mutation levels, making standardization in this area increasingly important.
Download this free poster to learn about how we characterized a panel of reference materials for the assessment, harmonization, and improvement of TMB measurements by NGS assays.