Development of Highly Multiplexed Reference Materials for Inherited Cancer Testing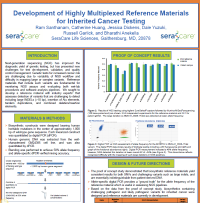 Next Generation sequencing (NGS) has improved the diagonistic yield of genetic testing, but has presented new challenges for test development, validation and quality control management. Genetic tests for increased cancer risk are challenging due to variable of NGS workflow and difficulty in mapping large or complex variants.
Download this poster to see how we developed a reference material with industry experts that asseses the detecion of variants that are challenging to detect including large INDELs (>10 bp), insertion of Alu elementis tandem duplication, and combined deletion/insertion elements.
Complete this form for your free download: