Development of Blood TMB (bTMB) reference materials for validation of ccfDNA-based targeted NGS assays that measure tumor mutational burden in patient blood samples
Tumor mutational burden (TMB) is a promising biomarker for predicting positive patient response to immune checkpoint inhibitors. TMB measurements can be determined using genomic DNA extracted from FFPE-preserved tissue biopsy samples. However, assessment of TMB from a surrogate blood sample (liquid biopsy) referred to as Blood TMB (bTMB), is an attractive alternative clinical diagnostic tool that would allow clinicians and patients to avoid the invasive challenge of tissue biopsies. Obtaining concordant bTMB results across assays has been challenging.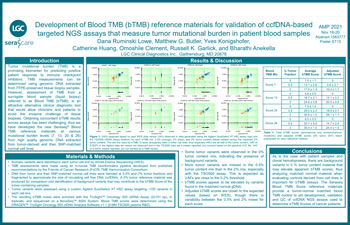 Download this poster from AMP 2021 to learn how we addressed this challenge head on with Seraseq® Blood TMB reference materials at various mutational burden levels (7, 13, 20 & 26) from high quality genomic DNA extracted from tumor-derived and their SNP-matched normal cell lines.