Designing Next-Generation Sequencing Controls and Standards for Optimal Quality and Performance
Download this video and join our Chief Scientific Officer, Russell Garlick and our esteemed panel from the AMP 2019 workshop as they tackle the technical and regulatory considerations for designing next-generation sequencing controls and standards for optimal quality and performance.
Along with the video you will get access to the scientific poster on Multi-Laboratory Assessment of a New Reference Material for Quality Assurance of Circulating Tumor DNA Measurements
The accurate diagnosis and monitoring of cancer, using circulating tumor DNA, is a major challenge, given the low concentration and complexity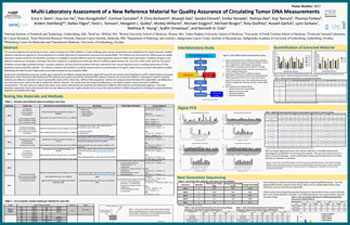 of the target molecules. Suitable reference materials are required for clinical laboratories to achieve high levels of measurement assurance and reproducibility. The methods and instruments for ctDNA assays are rapidly evolving to improve sensitivity and specificity, resulting in a challenge to compare different assays for measuring diverse classes of ctDNA cancer biomarkers.