Consistent Performance of Highly Multiplexed RNA Fusion Reference Materials Across Different NGS Assays in a Multi-Lab Study
Fusion detection is an important part of cancer disease management, and there is an increasing need for highly multiplexed reference materials to cover mutations which may be rare or difficult to obtain.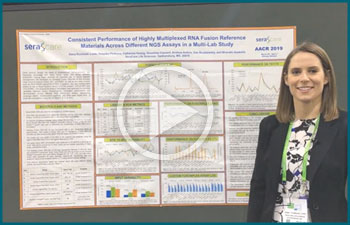 SeraCare continues to innovate the Seraseq Fusion RNA product line in order to address this critical market need with an updated version designed for use with NGS assays that detect gene fusions via sequencing of RNA transcripts.
Adding to the version 3 product, Seraseq Fusion RNA Mix v4 now includes CCDC6-RET and TFG-NTRK1, as well as higher levels of certain fusions that tend to perform low on NGS. After formulation and QC testing, it was sent to five different external labs.
Watch this video and download this poster to see how this reference standard performed as a positive control in clinical RNA fusion assay development, validation, and bioinformatics pipeline optimization, in this multi-lab investigation.