A Commutable Circulating Tumor DNA (ctDNA) Reference Material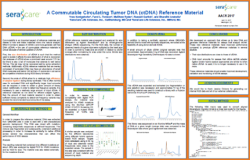 Commutability is an important aspect of reference materials and relates to how well the materials can mimic the natural analyte.
When it comes to assays of ctDNA - and more generally cell free DNA (cfDNA) - the use of commutable reference material is critical because of several qualities of cfDNA.
Download this poster to see how we developed an approach that allows us to take DNA and generate reference materials for assays that anaylze cfDNA.