Reference Materials for Tumor Mutational Burden Transcriptome Profiling
Tumor Mutational Burden (TMB) has shown the ability to predict the response of some tumor types to immune checkpoint inhibitor therapy. However, TMB is an imperfect biomarker. We have previously measured TMB by whole exome sequencing (WES) in cell lines to establish TMB reference materials. We have now evaluated the same cell lines for expression of the TMB mutations previously identified by WES.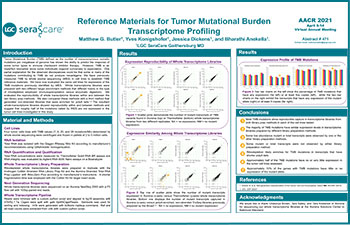 Download this poster from AACR to learn how Whole transcriptome libraries were prepared with two different target enrichment methods that differed mainly in the type of ribodepletion employed (immunoprecipitation versus enzymatic digestion) and how we evaluated the reproducibility of whole transcriptome libraries within and between the two library prep methods.
Fill out the form to download our free poster.