We're proud to be a premier sponsor of this year's Molecular Med Tri-Conference.
Be sure to attend our workshops on tumor mutational burden (TMB) measurement standardization, and building and implementing liquid biopsy assays.
Listen Now: Featured Speaker Podcast by Friends of Cancer Research

Hear Mark Stewart's podcast, Target the Tumor Mutational Burden and Pursue Harmonization.
Dr. Mark Stewart discusses the role of the tumor mutational burden (TMB) in cancer research and the need for harmonization throughout the process.
Listen Now
Audio via SoundCloud.
Don't miss his Tri-Con presentation on March 12th. (Details below.)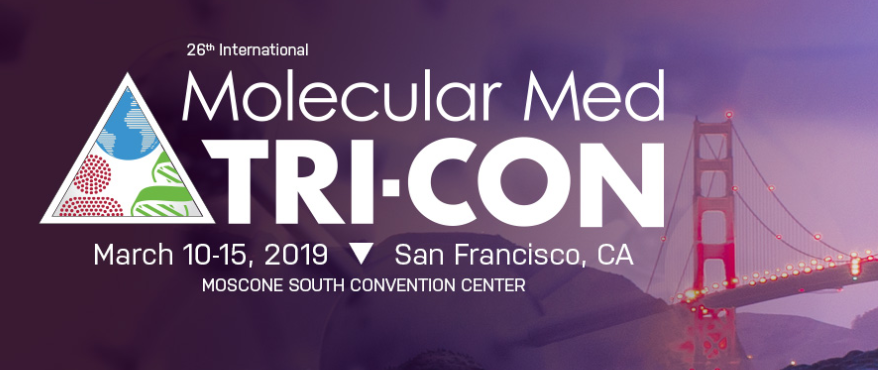 Visit us at booth 607 to learn about:
How SeraCare is leading the way with TMB reference standards
The most complete portfolio of ctDNA reference standards
New AccuRef reference standards for Sanger and qPCR
WORKSHOP TRACK: COMPANION DIAGNOSTICS AND CLINICAL BIOMARKERS
Optimizing TMB Use in Cancer Research and Care: The Friends of Cancer Research TMB Harmonization Effort
Tuesday, March 12th ~ 12:10 - 12:25 pm
Optimizing TMB Use in Cancer Research and Care: The Friends of Cancer Research TMB Harmonization Effort Abstract: Harmonization of methods to quantify TMB will facilitate robust biomarker development and optimize clinical utilization and treatment decision-making. Friends aims to better understand the impact of assay variation on clinical outcomes, align standards, and define best practices for TMB assessment.

Featured Speaker: Mark Stewart, Friends of Cancer Research
Mark leads Friends' research and policy agenda and oversees research projects. He also establishes partnerships to develop policy proposals and consensus-driven solutions, and accelerate drug development. Mark received his PhD in cancer biology from the University of Alabama at Birmingham.
WORKSHOP TRACK: CIRCULATING CELL-FREE DNA
Building and Implementing Liquid Biopsy Assays with Industry's Most Patient-Like Reference Standards
Thursday, March 14th ~ 10:00 - 10:15 am
To ensure their clinical utility, NGS-based liquid biopsy assays must achieve exquisite sensitivity. We will discuss how sustainable, patient-like, highly-multiplexed ctDNA standards help laboratories and NGS assay developers save time while achieving and validating sensitivity to as low as AF0.1%.

Featured Speaker: Omo Clement
Omo Clement is the Sr. Product Marketing Manager in the Clinical Genomics business unit at SeraCare. Dr. Clement has rich product marketing experience and has held roles at Illumina, RainDance Technologies, Asuragen, and in Digital Biology at Bio-Rad Laboratories.
Visit SeraCare at Booth# 607