SARS-CoV-2 Quality Solutions
LGC SeraCare has provided gold standard third-party run controls and reference materials to clinical laboratories for more than 30 years. We are committed to supporting the critical efforts of assay development, verification, and ongoing performance monitoring in response to the COVID-19 pandemic. Our quality solutions encompass molecular, serology, NGS and antigen performance monitoring tools to support early detection of infection and surveillance efforts.

Learn more about our SARS-CoV-2 solutions
Antigen & Antibody Reagents
Now a part of LGC Clinical Diagnostics, The Native Antigen Company specializes in the development and manufacture of native and recombinant viral and bacterial antigens and antibodies. The Company has decades of experience in producing high-quality proteins with its proprietary mammalian cell expression system which ensures correct glycosylation and proper folding for the development of highly specific assays.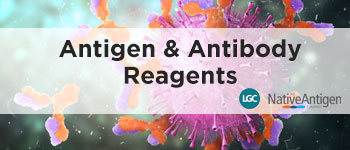 *Clicking on the above link will direct you to LGC's The Native Antigen Company website to learn more.