Automate the QC Data Analysis of Your Clinical NGS Test
Save Time and Money Collecting and Organizing QC Data for Audits and Troubleshooting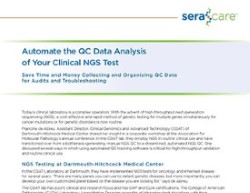 Francine de Abreu, Assistant Director, Clinical Genomics and Advanced Technology (CGAT) of Dartmouth-Hitchcock Medical Center shared her insight in a corporate workshop at the Association for Molecular Pathology's annual conference. She discusses several ways in which using automated QC tracking software is critical for high-throughput validation and routine clinical use.
Download this white paper to learn more:
Visualize trends and troubleshoot runs at a glance
NGS Sequencing Analysis
Post-validation daily run QC challenges
Fill out the form to download this white paper.
Complete this form for your free download:
We're committed to your privacy. SeraCare will not share or sell your data. View our privacy policy below for details.