Custom VariantFlex Technology Allows Rapid Design and Testing
of Reference Materials for Tumor Genotyping Assays
Development and validation of tumor genotyping assays requires highly characterized reference materials for effective assessment of accuracy, precision, reproducibility, and limits-of-detection (LOD).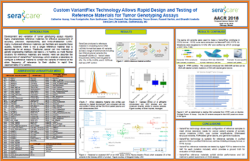 Highly multiplexed reference materials can facilitate and expedite these studies; however, there is not a single reference material that is appropriate for all assays.
Download this poster to see how the VariantFlex technology allows rapid configuration of reference samples to meet clinical laboratory needs for cancer patient analysis of somatic cancer mutations, copy number amplifications, DNA-based structural variants, RNA-based gene fusions, and germline mutations.
Fill out the form to download our free poster.
Complete this form for your free download:
We're committed to your privacy. SeraCare will not share or sell your data. View our privacy policy below for details.